One thing we are certainly seeing a lot of these days are parallels drawn between COVID-19 and other aspects of what was our pre-pandemic "normal" existence. It's our way to try and make sense of what the past year has really meant by relating the experience to traumatic circumstances we've previously felt prior to March 2020.  
I distinctly remember chatting with a close friend at the very start of the pandemic. He was concerned about the direct impact of COVID-19 but also the vast number of people missing doctor's appointments for non-COVID health issues, where an early diagnosis or perhaps a well-timed treatment may have saved a friend, neighbor, or a loved one from something life-threatening.
If your state wildlife agency encourages you to submit a deer for CWD testing, please do it.
For example, cancer is a leading cause of death in the U.S. and across the globe, and cancer screening is an effective preventive measure that can reduce incidence and mortality. While screening is integral to cancer control and prevention, due to the COVID-19 outbreak many screenings were either canceled or postponed, leaving scores of patients without access to recommended health-care services. That disruption may have a significant impact down the road.
Similarly, COVID-19 also inadvertently reduced chronic wasting disease (CWD) sampling efforts that some state wildlife agencies were able to put forth during the 2020-21 deer season. Staffing and financial shortages in several cases, such as in Michigan, resulted in reductions in check-station and drop-box locations, dates and hours operated, and the number of deer heads accepted for testing. There, the agency prioritized sampling from in and around known CWD areas, but intensity was still down nearly 90% from the year prior, with only 2,232 samples collected this past hunting season.
Unfortunately, other states like Missouri were forced to change protocol by temporarily transitioning from mandatory to voluntary sampling efforts during the 2020-21 season. Even though sampling is ongoing there within post-season sources like taxidermists, processors and targeted removal, estimates show significant reductions are likely. As of this spring, they were realizing a 55% decrease from the prior year. Some agencies, such as West Virginia and Maryland,  completely shut down testing for hunter-harvested deer last fall. 
Though testing wild deer is incredibly costly, reduced capacity can't be the norm, and deer hunters should not be comfortable with less testing. Education will be critical to advise folks about the importance of again ramping up future efforts now that we are getting back to normal. 
Still, some good news, even though there are standouts where COVID-19 directly and negatively affected sampling, not all states saw a decline. Many hit their quotas, and some agencies even tested more deer for CWD in the 2020-21 season than ever before. Tennessee tested 18,809 samples from this past season, which was a record. 
Some states, like the Pennsylvania Game Commission (PGC), display their season sampling effort publicly and interested parties can follow along on PGC's new online CWD Results and Surveillance Dashboard. Outreach like this is a perfect location to inform and engage visitors about the needs of adequate sampling intensity to better understand where CWD is found in that state.
Like my friend, I believe we should be concerned about the long-lasting impacts COVID-19 will have on future management of CWD. With reduced efforts to find it, CWD will spread and will kill more deer. Just like cancer. 
The NDA urges all people who care for wildlife and wild places to also care about healthy deer herds. Whether you hunt or not, or live in an area that already has CWD or not, the situation is not hopeless. Be informed and learn about the steps you can take to help fight it. Start by finding out if it has already been found in your state and county, learn the science behind CWD, follow your agency's regulations regarding CWD, including reporting sick deer and travel and transport rules with deer you've legally killed, and, if your wildlife agency encourages you to submit a deer for testing, please do it. Even if something like COVID-19 restricts their ability, it shouldn't restrict your ability to care about the resource. 
Together, we can win the battle against this terrible disease.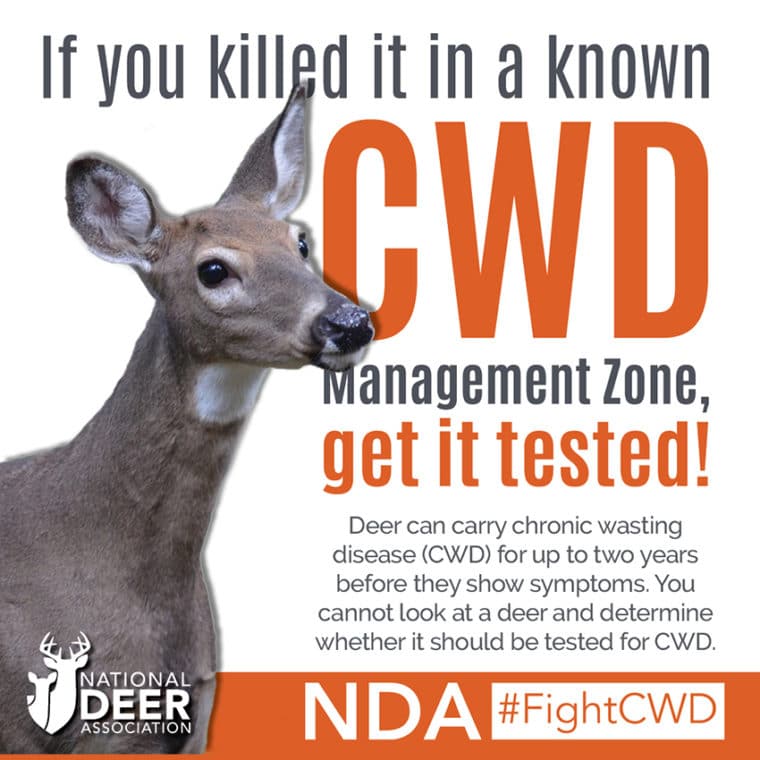 The post COVID Hurt CWD Sampling in Deer. We Must Bring It Back. appeared first on National Deer Association.