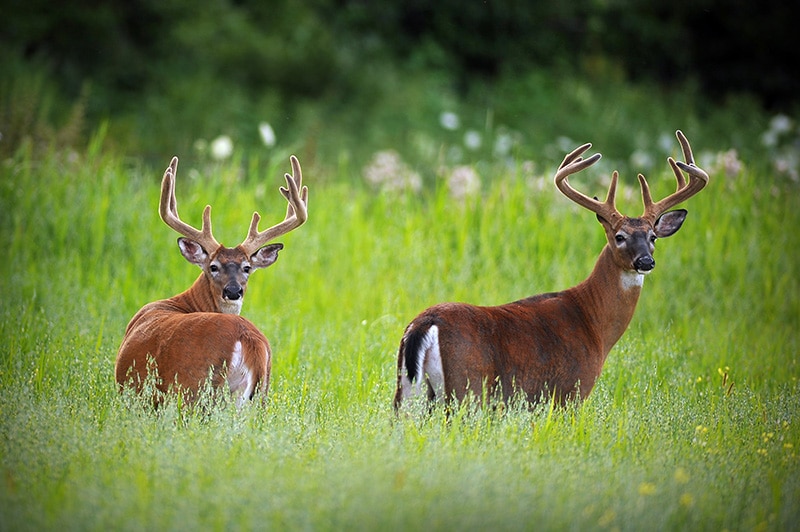 CWD Roundup is the National Deer Association's (NDA) bi-monthly update on all things chronic wasting disease (CWD). We'll provide the latest updates on CWD spread, research and policy from across North America. Updates are provided alphabetically by state and province.
Louisiana
On May 6, the Louisiana Wildlife and Fisheries Commission (LWFC) adopted an amendment to only allow the use of deer urine products by manufacturers or entities that are actively enrolled and participating in either the Responsible Hunting Scent Association (RHSA) or Archery Trade Association (ATA) Deer Protection Program. The urine products must also have been tested using real-time quaking-induced conversion (RT-QuIC) and certified that no detectable levels of CWD are present. Containers must be clearly labeled as such.
Minnesota
In late May, the Minnesota Board of Animal Health (BAH) announced that 12 additional white-tailed deer tested positive for CWD as part of its ongoing investigation of a farm in Beltrami County. Following the discovery of the initial positive case in the Beltrami County herd, deer remains from that farm were discovered on adjacent county-managed land, including CWD-causing prions in at least one bone.
On June 1, The Minnesota Department of Natural Resources (DNR) issued an emergency rule temporarily prohibiting the movement of all farmed white-tailed deer within the state, with the exception of deer being transported to slaughter. The rule took effect on Tuesday, June 1, and ends Saturday, July 31.
In late June, the Minnesota Legislature passed Senate File 20 (SF 20), which gives the Minnesota DNR and BAH concurrent authority to regulate farmed white-tailed deer. Now, DNR officials may inspect farmed white-tailed deer according to the concurrent authority granted. The commissioners of both agencies must submit a report by February 2022 that includes a summary of how the agencies worked together under this new legislation, including identification of any challenges; an assessment of ongoing challenges to managing CWD in Minnesota; and recommendations for statutory and programmatic changes to help the state better manage the disease.
Mississippi
In mid-May, the Mississippi Department of Wildlife, Fisheries, and Parks (MDWFP) proposed to amend CWD rules in the state. MDWFP's recommendation would allow hunters to transport deer heads outside of a MDWFP-defined CWD Management Zone to a permitted taxidermist participating in the state's CWD collection program. The proposal also brings Mississippi's CWD Management Zones more in-line with those of surrounding states, including implementing a CWD sampling and monitoring system that closely follows the system developed and utilized by the Arkansas Game and Fish Commission (AGFC).
Missouri
In late May, the Missouri Conservation Commission approved proposed regulation changes from the Missouri Department of Conservation (MDC) to add Camden, Laclede, McDonald, and Pulaski counties to the CWD Management Zone. The four counties were added to the Zone due to CWD being found in or near each county. These additions bring the Zone to 34 counties. The Commission also gave its approval to reinstate mandatory CWD sampling for the coming deer season. Each year, counties designated for mandatory CWD sampling must be approved by the Commission.
New Hampshire
In mid-June, New Hampshire Fish and Game (NHFG) announced that New Hampshire's white-tailed deer population once again showed no evidence of CWD, based on monitoring data gathered during the 2019 and 2020 hunting seasons. Between 2019 and 2020, 735 tissue samples from hunter-killed deer were tested.
Ohio
In mid-June, the Ohio Department of Natural Resources (ODNR) Division of Wildlife announced that it has enacted a disease surveillance area in three north-central counties following the discovery of CWD in two wild white-tailed deer harvested during the 2020-21 hunting season. The disease surveillance area includes Wyandot County as well as portions of Hardin and Marion counties. The surveillance area includes the area within a 10-mile radius from both positive detections.
Pennsylvania
In late May, the Pennsylvania Department of Agriculture (PDA) announced a confirmed positive for CWD in a white-tailed deer on a Warren County hunting preserve. Remaining deer on the farm were euthanized, and CWD was not detected in any of the samples. PDA has quarantined the preserve for five years, per protocol. Contact tracing to determine any further exposure is in progress and may necessitate additional quarantines of other facilities.
In early June, the Pennsylvania Game Commission (PGC) announced the establishment of a new Disease Management Area (DMA) as a result of the positive detection in Warren County. The new DMA, DMA 5, lies completely within Warren County. The establishment of this new DMA resulted in the implementation of new regulatory measures within the area which are intended to reduce the risk of spreading CWD.
Texas
In mid-May, the Texas Parks and Wildlife Department (TPWD) announced CWD had been discovered in deer breeding facilities in both Matagorda and Mason counties. These positives mark the first positive detections of the disease in these counties. An epidemiological investigation found that both deer breeding facilities had received deer from an Uvalde County premises where CWD was found on in March 2021.
In late June, TPWD issued an emergency order to impose additional movement and testing restrictions on deer breeding facilities that are affiliated with six deer breeding facilities where CWD has been positively detected. The order essentially expands the breadth and depth of facilities covered and includes increased testing requirements and tighter movement restrictions.
Virginia
In mid-May, Virginia Department of Wildlife Resources (DWR) confirmed CWD in a 2.5-year-old male white-tailed deer legally harvested in southwestern Montgomery County. The sample was collected by a taxidermist in November 2020. This positive detection marks the first detection in Montgomery County, and the detection is over 160 miles from the next closest detection. As a result, DWR has created a new disease management area – DMA3 – which includes Floyd, Montgomery, and Pulaski counties. A number of new regulatory mechanisms have been put in place to reduce the risk of spreading CWD.
Wisconsin
In mid-June, Wisconsin Department of Natural Resources (DNR) confirmed a wild white-tailed deer tested positive for CWD in Green Lake County. The CWD-positive deer was an adult deer found dead in the Town of Brooklyn in early May 2021. This is the first wild deer that has tested positive for CWD in Green Lake County, and its location is also within ten miles of adjacent Fond du Lac, Winnebago and Waushara counties. Green Lake, Fond du Lac and Waushara counties are already identified as CWD-affected counties and already have baiting and feeding bans in place, but Winnebago County will now join that list.
Wyoming
Throughout June, the Wyoming Game and Fish Department (WGFD) invited deer hunters and other interested persons to attend one of five public meetings to discuss CWD management within the Laramie Mountains Herd Unit (Hunt Areas 59, 60, 64). This herd unit has one of the highest prevalence rates of CWD in the state
Alberta, Canada
In early June, the crown corporation Alberta Innovates said it will make up to $1 million available for projects aimed at finding solutions to the challenges associated with the fatal disease that affects white-tailed deer, mule deer, moose, elk and reindeer.
The post CWD Roundup – July 2021 appeared first on National Deer Association.