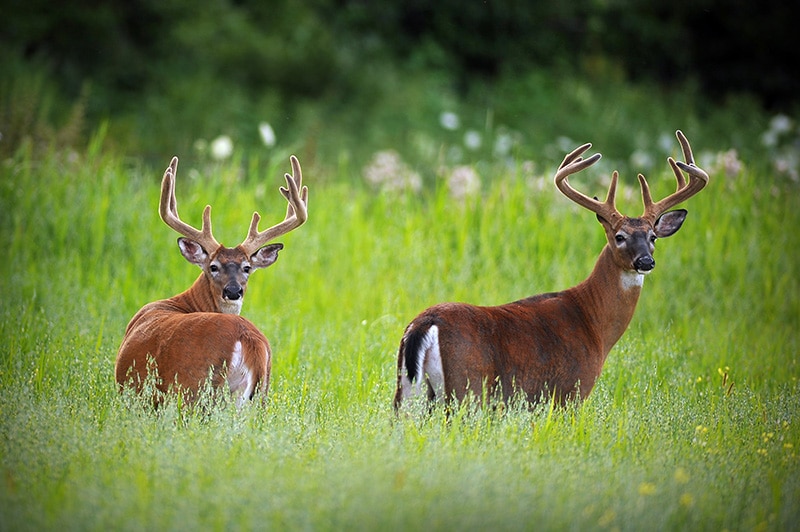 CWD Roundup is the National Deer Association's (NDA) bi-monthly update on all things chronic wasting disease (CWD). We'll provide the latest updates on CWD spread, research and policy from across North America. Updates are provided alphabetically by state and province.
Upcoming Hunting Season Updates
A general trend that we've seen over the last two months is state wildlife agencies issuing news releases with information and reminders for hunters with respect to CWD as they head afield this fall. These reminders have included information on CWD hunting zones, regulations within those zones, carcass transport rules and how and where to get harvested deer tested for the disease. Hunters should pay close attention to these reminders and would be wise to take another glance at their state wildlife agency's CWD webpage. Regulations and maps change quickly and often, and hunters must do their part to limit the spread of this disease. Some states that have issued reminders include: Alabama, California, Florida, Idaho, Minnesota, Missouri, New York, North Dakota, Pennsylvania and Vermont. Similarly, some states have been holding public meetings to update the public on CWD rules and management efforts. These states include Arkansas, Virginia, Wisconsin and Wyoming
Michigan
On August 11, the Michigan Department of Agriculture and Rural Development (MDARD) confirmed two cases of CWD at two separate farmed deer facilities – one in Mecosta County and one in Montcalm County. The two infected deer, a two-year-old and a four-year-old respectively, were discovered through routine testing as part of the state's CWD surveillance program for farmed deer. These positive detections bring the total deer farm detections in the state to eight.
Minnesota
In August, the Minnesota Department of Natural Resources (MDNR) announced CWD testing for deer harvested in certain deer permit areas will once again be mandatory for specified weekends of the 2021 deer hunting season. Specifically, during the opening weekends of both firearms A and B seasons (Nov. 6-7 and Nov. 20-21, respectively), any deer one year or older that is harvested from a deer permit area (DPA) in one of the CWD zones must be submitted for testing.
Pennsylvania
In mid-July, the United States Forest Service (USFS) announced a proposal to temporarily prohibit wildlife feeding on the Allegheny National Forest (ANF) in northern Pennsylvania due to the detection of CWD in a captive deer facility in Warren County. The NDA submitted comments in support of the proposal, and on August 24, the USFS announced a decision to implement a one-year prohibition, noting the influence of NDA's letter in that decision.
In early August, the Pennsylvania Game Commission (PGC) expanded regulations prohibiting the movement of high-risk carcass parts from deer, elk and other cervids to control the potential spread of CWD. These changes will impact hunters going out of state this fall or hunting within Disease Management Area (DMA) 2. First, hunters are prohibited from importing high-risk parts or materials from cervids harvested, taken or killed in any state or country outside Pennsylvania. In years past, the prohibition applied only to those parts from animals taken in states and provinces known to have CWD. Second, hunters are prohibited from moving high-risk parts outside of the Established Area (EA), which is a subsection of DMA 2. That includes moving high-risk parts into the surrounding DMA 2.
Texas
On August 27, the Texas Parks and Wildlife Department (TPWD) announced CWD had been discovered in a deer breeding facility in Duval County, marking the first positive detection of the disease in the county. The tissue samples were submitted by the deer breeding facility as part of required CWD surveillance programs. Officials have taken immediate action to secure all deer at the facility and plan to conduct additional investigations for CWD. In addition, other breeding facilities that received deer from this facility or shipped deer to this facility during the last five years are under movement restrictions and cannot move or release deer at this time.
Wisconsin
In early August, the Wisconsin Department of Natural Resources (WDNR) announced that the Adopt-a-Kiosk and Adopt-a-Dumpster programs are again looking for more volunteers to bring convenient CWD testing and proper deer carcass disposal options for hunters across Wisconsin.
On August 11, the Wisconsin Department of Agriculture, Trade and Consumer Protection (DATCP) confirmed that deer farms in Sauk and Taylor counties tested positive for CWD. Positive samples were taken from a 6-year-old doe in Taylor County and a 9-year-old buck in Sauk County. The 227 white-tailed deer at the 22-acre double-fenced Taylor County farm and the two white-tailed deer at the 1-acre single-fenced Sauk County farm have been quarantined, and the herds will remain under quarantine while an epidemiological investigation is conducted. This was the first positive detection in Taylor County.
On August 31, WDNR announced the formation of a committee to review the state's CWD response plan. In 2010, the Natural Resources Board (NRB) approved the 15-year CWD response plan through 2025, guiding the DNR's approach to addressing CWD in Wisconsin. In following the plan, the DNR will review its progress toward meeting the plan's goals and objectives every five years. Stakeholders from conservation, business and hunting organizations and tribal governments have been invited to join the committee. The NDA has happily accepted an invitation to join the committee.
Wyoming
On August 21, the Wyoming Game and Fish Department (WGFD) announced that the Department will be requiring mandatory CWD sample submission for the first time on deer harvested from Deer Hunt Areas 96 and 97 this fall. These areas are home to the Sweetwater Herd Unit in the Lander Region.
The post CWD Roundup – September 2021 appeared first on National Deer Association.