Deer seem to have a knack for getting themselves into unfortunate pickles, from broken antler pedicles to missing legs, warts, pneumonia, and more. The whitetail's talent for blatantly throwing up a middle finger to all the injuries and diseases it encounters while still trucking on makes this animal a crowd favorite. As a professional deer biologist, I frequently hear from hunters who see deer with incredible injuries or exhibiting peculiar behaviors. Most of these issues are more common than you may think, but about the time I felt I had heard and seen it all, an Indiana buck with an extremely shocking injury surprised me further.
One July evening this summer, my fiancée and I watched an impressive velvet buck out in a bean field, snapped some photos of him, and went home. Later, upon close examination of our pictures, it became apparent this buck had a real issue. Where his tail should be he had a large piece of dangling soft tissue. As he walked or ran through the field, this 10-inch-long protrusion of organ swung like a bright red rope out of his rump.
This buck appears to be suffering from a rectal prolapse. Essentially his colon is hanging out of his body, inside out. Imagine his colon, the canal leading to the rectum, is a shirt sleeve pulled back through the arm hole. Not a pleasant sight. The visible colon tissue that can be seen hanging would normally be the internal wall of his intestine and rectum. That has got to burn!
We watched and photographed this buck several times over the summer months, and his injury did not appear to be slowing him down yet. He was just as alert and active as any other deer. Most evenings we found him out in the beans with a few other bucks and does. He doesn't flick his tail or raise it when he runs, so at first I thought his tail was gone. After watching him carefully, l now think his tail is wrapped under the left side of the prolapsed tissue and stuck there.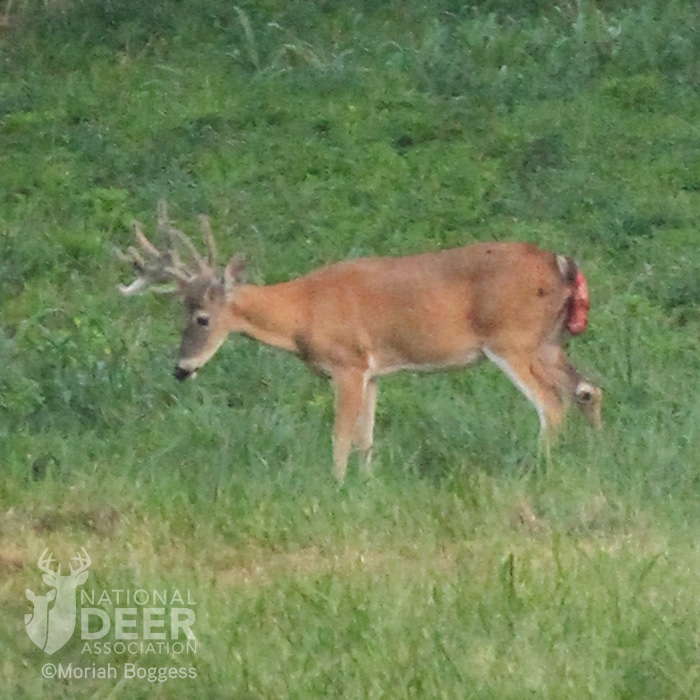 It's unclear what caused this rectal prolapse. The possibilities include a heavy parasite load, intestinal infection, urinary tract blockage, or any other internal infection that led to prolonged and increased pressure on the lower digestive system. One thing is certain, however. This buck has a ticking time bomb hanging from his bum, and he is unlikely to recover. As his colon hangs twisted through his rectum, blood has flowed into the area, and the tissue has become inflamed and swollen. After time, this tissue will begin to die as it hangs outside the body cavity in the elements, and an infection will likely be this buck's demise.
If he lives another month or two, I hope some lucky Indiana hunter can put a tag on him. Otherwise I doubt he will survive through winter. It's always sad to see an animal in such a predicament, but that's just a product of life out in Mother Nature. All we can do is stay focused on producing healthy herds and habitats so that all deer have the best chance to avoid illness and recover from their injuries.
The post It Takes Guts to Look: This Indiana Buck is Inside Out appeared first on National Deer Association.